Just in time for the brand's 20th anniversary, NEOCUTIS, the science-based skincare line from Merz Aesthetics, is launching its new Neo Restore Post Treatment Nourishing Sheet Mask.
Formulated with powerful ingredients including proprietary peptides that boost production of collagen and elastin, glycerin to retain moisture in skin, hyaluronic acid to visibly smooth and hydrate the skin surface, and aloe barbadensis leaf juice powder to moisturize and cool the skin, the mask assists in reaching consumers' skincare goals including revitalizing and hydrating the skin. The synergistic formula and combination of propriety peptides and growth factors are clinically studied to be the proven, combined powerhouse technology Neocutis has become known for.
"We're thrilled to bring this revolutionary sheet mask to the market as we expand our category offerings in the skincare space," said Patrick Urban, President of Merz Aesthetics North America. "We're proud of the popular skincare favorites Neocutis has brought to market over the years, with this latest product innovation marking 20 years of Neocutis."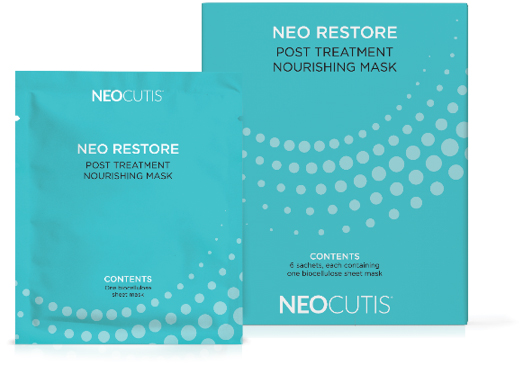 The technology and ingredients in the Neo Restore Post Treatment Nourishing Sheet Mask harken back to the brand's heritage, which is rooted in healing. NEOCUTIS was founded on the basis of extensive wound healing research performed in Lausanne, Switzerland. When the brand's first wound healing technology was found to heal burned skin, while making it appear healthier, NEOCUTIS scientists began to explore how to apply the same principles to improve the appearance of aging skin.
"We are committed to continued innovation across all of our brands. The biocellulose face mask is a great addition to the Neocutis range, providing another option for consumers in their self-care regimen," said Dr. Samantha Kerr, Chief Scientific Officer, Merz Aesthetics.
This sheet mask can be incorporated into a weekly skincare routine or at the direction of a healthcare provider after receiving an aesthetic treatment, such as those offered in the Merz Aesthetics portfolio. Providing hydration and conditioning to combat daily wear and tear, the mask was clinically reported to improve skin appearance when used twice a day for several days following an aesthetic procedure. Over 90 percent of patients reported their skin looked healthier after the mask application (n=33)1.
The mask is composed of biocellulose material, which works to specifically assist in post-treatment support. Biocellulose material allows for high water retention which in turn delivers robust concentrations of key ingredients. This helps the mask adhere snugly on the skin, like a "second skin", which in turn optimizes absorption of the proprietary formulation and allows the skin to benefit as much as possible.
A box of six individually wrapped masks retail at $122. All masks are for one-time use only.
Neo Restore Post Treatment Nourishing Masks are available through your medical practice or skincare provider – visit neocutis.com to find an office near you. You can also purchase at amazon.com/shops/lovelyskincom.
1 Data on file, April 2023
About NEOCUTIS
NEOCUTIS is a division of Merz Aesthetics. A leader in innovative skincare, NEOCUTIS brings together the precision of Swiss technology and cellular research for scientifically advanced breakthroughs in anti-aging and post-procedure skin care. By developing products that help patients to live better, feel better and look better, we hope to make significant contributions to the well-being of individuals around the world. NEOCUTIS is an important contributor to the U.S. skincare space, offering a full line of products designed to help diminish the visible signs of skin aging and address key skin care concerns. NEOCUTIS products are available exclusively through medical practices and skincare providers. For more information about the NEOCUTIS product lines, or to find an authorized physician or skincare provider in your area, please visit neocutis.com.
About Merz Aesthetics

Merz Aesthetics is a medical aesthetics business with a long history of empowering health care professionals, patients, and employees to live every day with confidence. We aim to help people around the world look, feel and live like the best versions of themselves – however they define it. Clinically proven, its product portfolio includes injectables, devices and skin care treatments designed to meet each patient's needs with high standards of safety and efficacy. Being family owned for more than 110 years, Merz Aesthetics is known for building unique connections with customers who feel like family. Merz Aesthetics' global headquarters is in Raleigh, N.C., USA, with a commercial presence in 52 countries worldwide. It is also a part of Merz Group, which was founded in 1908 and is based in Frankfurt, Germany. Learn more at us.merzaesthetics.com.
Media Contacts:
Dan Strickford
Director, U.S. Brand Communications, Merz Aesthetics
Tel: (919) 302-8239
dan.strickford@merz.com
Konstantina Sitounis
DeVries Global
Tel: (212) 546-8578
KSitounis@devriesglobal.com